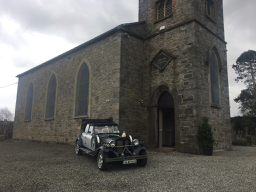 We had the  Beauford Wedding Car  for our wedding on the 6th of April 2018.
From our initial booking in January to the day of our wedding, Karen was available to answer any questions we might have had.
Padraic our driver on the day was so attentive and made our day that extra special with his thoughtfulness.
I would definitely recommend AKP wedding cars to any couple who want a special car to create wonderful memories on their big day.
Theresa Mc Kenna, Vintage Beauford Wedding Car Drogheda Co. Louth
November, 2018