TERMS & CONDITIONS OF HIRE IF BOOKING ONLINE OR OVER THE PHONE YOU ARE AGREEING TO OUR .
All of our Stretch Limousines are Licensed and Insured to Seat the Maximum of 8 Passengers in accordance to Regulations Laid down by the National Taxi & Limousine Regulator in Ireland. .
Please make sure all travelling in Limousines are aware of these terms & conditions as we will not be held liable on the Day for Refusal to Carry More than 8 Passengers.
Booking fee:
A minimum booking fee of €100 (Euro) is required per car upon booking; no car or date is reserved without a booking fee, all cars are reserved provisionally for 7 days . All booking fees are non refundable.
Limousine Hire & Wedding Car Hire Rates:
The rate charged is for the journey agreed at the time of booking. Any additional wedding car or limousine hire prices will be charged accordingly and must be advised prior to the date of the wedding, debs or special occassion
Balance of Wedding Car & Limousine Hire
The balance is payable on the day of the wedding. Please ensure that payment is made before arrival at the wedding venue / wedding hotel or debs venue /debs hotel.
If one wedding car or limousine is booked we will provide one collection from the address specified for the Bride. The same car may provide an additional collection for Bridesmaids only if distance and time allows. This must be agreed in advance. If the Groom is to be collected a second car must be booked and we will provide one collection from the address specified for the Groom.
The car, which collects the Groom, may also collect the Bridesmaids separately if the church and the Bridesmaids collection address are within a reasonable distance. All trips must be agreed in advance. Full details of collection addresses. ceremony and reception locations must be made known at the time of booking.
A stop for photographs is included on the way from the ceremony to the reception. We must be notified of the location in advance. Our service ends when the car(s) arrive at the Reception venue and all passengers leave the car(s).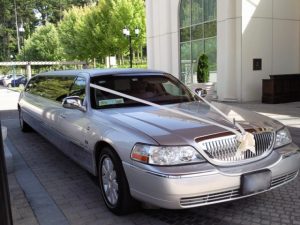 Change of Dates for Wedding Or Debs Ball
When deciding to change the date of your wedding you must notify us by telephone, email or in writing.
Due to the unexpected circumstances if the car(s) you have booked are not available on your new date we will offer alternative car(s) if available. If we have no alternative car(s) available then the booking will be cancelled. The deposit or any other amount paid in advance is non-refundable.
Other Changes made to Wedding Car & Limousine Hire
If you change any other details of your wedding or debs e.g. collection address, church or hotel, wedding venue or debs venue you must notify us by telephone, email or in writing.
Extra charges may be incurred if the car(s) are required for a longer journey or time than originally booked.
Cancellations of Wedding Car Hire & Limousine Hire
*As our Terms & Conditions CANCELLATIONS MADE 3 MONTHS OR LESS BEFORE WEDDING DATE WILL BE LIABLE FOR FULL PAYMENT FOR CARS*
If two or more beauford, regent wedding cars or silver and gold limousines are booked and one car is cancelled. The deposit apportioned to that car is not transferable to the remainder of the booking and will be forfeited and any discounts given will revert back to the original full price.
Breakdowns
In the event of a break down of any of our cars we will endeavour to provide a suitable alternative car & limousine, we will not be held liable for any unforseen circumstance.
Photographs
Consideration should be taken to the size and vintage of our vehicles when planning your journey. If your route involves using very narrow roads in poor condition, for example access to photo venues, please discuss this with us prior to the day.
Damage to our Wedding Cars & Limousines
Any damage to any property owned by AKP Chauffeur Drive, by the hirers of the vehicles and their parties, will be responsible for the cost involved, in replacement or repair, at the most reasonable cost available, and with as little inconvenience to both parties.
Credit Card / Debit Card Charges
There is no charge on all credit card & debit card bookings.
All of our Wedding Cars and Limousines include a complimentary bottle of Champagne or choice of drink depending on the occassion.
Counties of Ireland Covered by Wedding Car hire & Limousine Hire
We look forward to working with you be it for Wedding Cars Dublin , Debs Limos or Limo Hire in the following counties of Ireland
Dublin
Meath
Kildare
Wicklow
Louth
Cavan
Monaghan
Offaly
Rest of Ireland by Request

Thank you for taking the time of read our terms & conditions of hire – AKP Chauffeur Drive Wedding Cars & Limousines